Top Attractions in St. Augustine!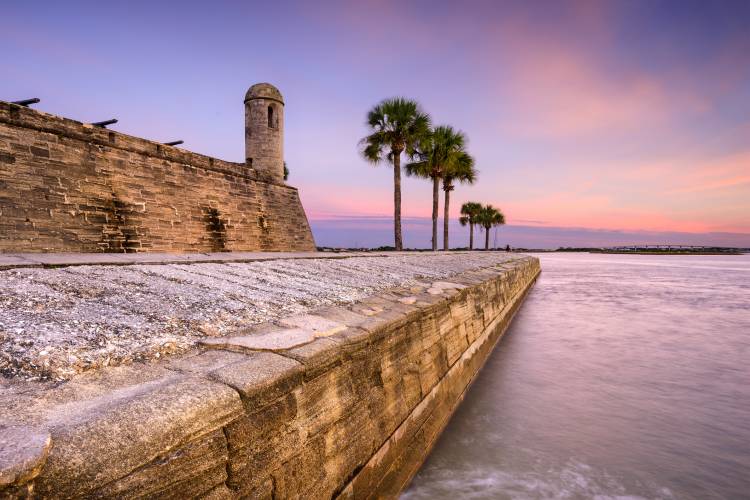 St. Augustine, Florida, not only holds a special place in our hearts but also in the hearts of history enthusiasts, beach lovers, and adventure seekers alike. Known as the oldest continuously occupied European settlement in the United States, this enchanting city offers a treasure trove of attractions that showcase its rich heritage and captivating beauty. Find out the top attractions that make St. Augustine a must-visit destination. 
Historic District
St. Augustine's Historic District is like entering into a time capsule. Wander around and view the centuries-old buildings, dating as far back as the 1700s. The Historic District is home to several restaurants, shopping, and attractions. This walkable city is perfect for you to get out and about and embrace the history of the city and you certainly don't want to miss out on the architectural wonders of landmarks such as Flagler College, the Lightner Museum, and the Government House. 
Castillo de San Marcos
Castillo de San Marcos is the oldest masonry fort in the continental United States. This Spanish fortress was built in the 17th century over 315 years ago. It overlooks Matanzas Bay and stands as a testament to St. Augustine's turbulent past. Explore its well-preserved ramparts, walk through the gun deck, and imagine the battles that once took place within its walls. The breathtaking views of the water and the city from the fort's vantage points are simply unforgettable. 
St. Augustine Beaches 
Another great draw to St. Augustine is the beautiful beaches. St. Augustine has over 40 miles of beaches visitors and locals alike love to visit. Anastasia State Park, with its pristine coastline and lush dunes, offers a tranquil oasis for sunbathing, swimming, and birdwatching. Vilano Beach, with its relaxed atmosphere and stunning views of the Atlantic Ocean, is perfect for a leisurely stroll or a picnic. Whether you're seeking relaxation or outdoor adventures, St. Augustine's beaches have something for everyone. 
St. Augustine Lighthouse & Maritime Museum
Climb 219 steps to the top of the St. Augustine Lighthouse for a panoramic view that will take your breath away. This iconic landmark offers more than just stunning vistas; it also houses the St. Augustine Lighthouse & Maritime Museum. Discover the fascinating maritime history of the region, explore exhibits on shipwrecks and archaeology, and learn about the lives of the lighthouse keepers. A visit to the lighthouse is an unforgettable experience. 
Alligator Farm Zoological Park 
For a unique and thrilling adventure, make your way to the Alligator Farm Zoological Park. Get up close and personal with these ancient reptiles as you walk along elevated boardwalks that wind through their natural habitats. The park is also home to exotic birds, lemurs, monkeys, and other wildlife. If you're feeling adventurous, try the zip line course that offers a bird's-eye view of the park and surrounding areas. 
St. Augustine Distillery
Indulge your senses at the St. Augustine Distillery, where you can take a guided tour and learn about the art of craft spirits. Witness the meticulous process of creating vodka, gin, rum, and whiskey using locally sourced ingredients. After the tour, enjoy a tasting session to savor the distinct flavors and appreciate the craftsmanship that goes into each bottle. Don't forget to take home a bottle or two as a delicious souvenir. 
Fountain of Youth Archaeological Park
Uncover the legends and mysteries surrounding Ponce de Leon's quest for eternal youth at the Fountain of Youth Archaeological Park. Explore the archaeological exhibits, stroll through lush gardens, and sip from the legendary spring that is said to possess magical properties. Learn about Native American history and early Spanish settlements, and witness demonstrations of colonial-era weapons and blacksmithing 
Book your stay at Sea Place Condos!
Take advantage of all the beautiful sights that St. Augustine has to offer when you stay at Sea Place Condominiums. Our St. Augustine vacation rentals are the perfect place to stay when you visit St. Augustine, Flordia. Start Planning your next trip by booking one of our Sea Place condos Vacation Rentals.