Celebrate St. Augustine Nights of Lights 2021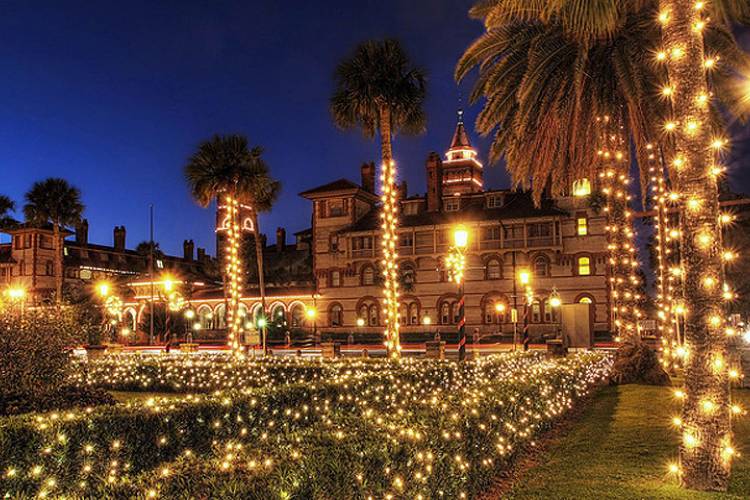 Amidst all the chaos of 2020-2021, there was one silver lining. One bright white light of hope; or should I say a whole town of bright white lights. The Nights of Lights here in St. Augustine, Florida reminded us all that, even in the darkest of times, light will always find a way.
Due to general safety, there was no ceremony to celebrate turning on the lights last year. This year, however, you can expect to count down with friends and family and watch as the Christmas tree and the city light up the night. 
Here is everything you need to know about the St. Augustine Nights of Lights in 2021:
Nights of Lights Schedule
Nights of Lights will take place from November 20, 2021 - January 31, 2022
Beginning at 4pm on Saturday, November 20 the celebration kicks off with a performance by Showtime USA at the Lightner Museum. After that, starting at 5:30pm at the Plaza de la Constitución, there will be a concert by the All Star Orchestra, performing holiday style music. Then finally, at 6:30pm they will begin the countdown to light up the town in a sea of beautiful white lights. You don't want to miss this as watching all of the lights come on is truly a sight to behold.
Plan For Parking Ahead of Time
One of the major things to remember is that parking in downtown St. Augustine can be confusing. It is always best to plan your rides ahead of time. Ridesharing apps like Uber or Lyft could be your best bet to bypass all the confusion of finding somewhere to park. For those of you who insist on driving yourself, don't worry! The Historic Downtown Parking Facility is located just behind the Visitor's Information Center and only costs $15 per vehicle (or $3 with ParkNow card) and can accomodate up to 1200 vehicles. Street/public metered parking will be available, however tight.
Best Ways to Experience the Lights
With the majority of the historic district shining brightly, there are no shortage of ways to experience the lights. You can tour through them by trolley or train with guided tours to take in all the beauty and history of the town. You can also walk along the waterway and over the Bridge of Lions to see the lights glisten across the water, or get a jaw-dropping view of the town from the top of the St. Augustine Lighthouse. Just bring some good company and you'll have a great time no matter what you choose to do.
Spend Your Holidays With Us Here in St. Augustine
The Nights of Lights are brighter than ever! Contact us now to book your holiday vacation. We can't wait to spend the holidays with you!