10 Best Places to Eat in St. Augustine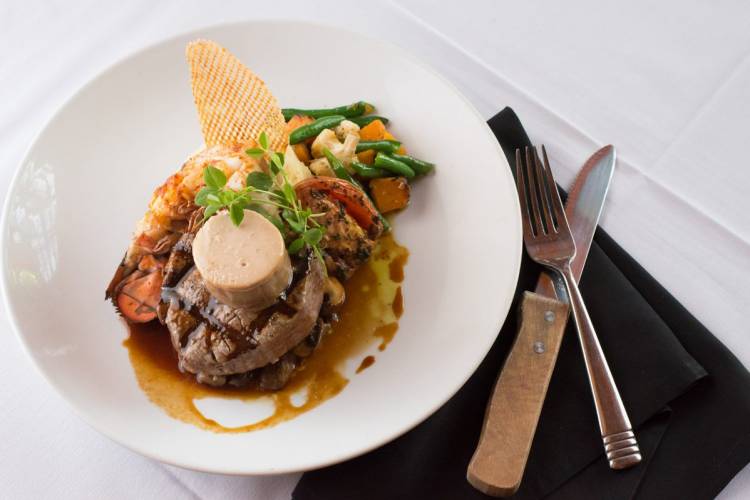 If you're looking for places to eat in St. Augustine, you're in luck. Saint Augustine is filled with award-winning restaurants suitable for every taste and budget. After spending a relaxing day on the beach, plan a delicious lunch or dinner at any of our favorites below. You won't be disappointed!
Best Asian Cuisine: @Corner Sushi
@Corner Sushi is an intimate Japanese restaurant located off of US1 South, featuring sushi, hibachi, and teriyaki specialties. All patrons receive a free house sushi roll and a small treat at the beginning and end of their meal.
Address: 2443 Dixie Hwy, St. Augustine, FL 32086
Phone: (904) 342-7382
Best White Tablecloth: Collage Restaurant
Collage (pictured above) prides itself on meticulous attention to detail for both continental cuisine and tableside service. Considered one of the top restaurants in the United States on Open Table, Collage offers perfectly seasoned steaks, fresh seafood, and flavorful chef creations. Be sure to tell the hostess during the reservation process if you're celebrating a special occasion!
Address: 60 Hypolita St, St. Augustine, FL 32084
Phone: (904) 829-0055
For lovers of NY style pizza, Carmelo's cannot be beaten in St. Augustine! Located off of King Street in the Historic District, Carmelo's serves up huge 20' pizzas packed with fresh ingredients.
Address: 146 W King St, St. Augustine, FL 32084
Phone: (904) 494-6658
Best Italian: La Strada Italian Restaurant
Located just a few blocks away from your condo at Sea Place, La Strada's chef & owner Mark DeRusso creates delicious Italian specialties at an affordable price point.  He offers a robust Italian wine list and will even prepare custom dishes if he has the ingredients.
Address: 4075 A1A S, St. Augustine, FL 32080
Phone: (904) 471-0081
Best Bar: Prohibition Kitchen
Step back in time at Prohibition Kitchen and listen to live music while enjoying handmade cocktails, loaded sandwiches, and crisp salads. Get to this popular bar early so you can grab a table before it fills up!
Address: 119 St. George St, St. Augustine, FL 32084
Phone: (904) 209-5704
Best Mexican Cuisine: Cantina Louie
Specializing in Mexican street food, Cantina Louie serves plentiful portions of tacos, fajitas, quesadillas, and burritos. Weekend diners have the opportunity to try Mexican Street Corn or Homemade Tamales!
Address: 1900 US-1, St. Augustine, FL 32086
Phone: (904) 770-2608
Best Seafood: Harry's Seafood Bar & Grill
Spice up your taste buds and head to Harry's Seafood Bar & Grill, located across the street from the Bayfront. Served with a Cajun flair, Harry's is the perfect spot to get your seafood craving satisfied.
Address: 46 Avenida Menendez, St. Augustine, FL 32084
Phone: (904) 824-7765
Best Locally Sourced: Preserved Restaurant
Preserved Restaurant is one of the finest Southern cuisine establishments in the Deep South, and all of their fresh dishes are made with locally sourced produce and ingredients.  Reserve at this upscale restaurant the next time you want to plan a romantic evening.
Address: 102 Bridge St, St. Augustine, FL 32084
Phone: (904) 679-4940
Best Cafe: La Taza Coffee & More
La Taza is a Peruvian cafe, serving unique sandwiches, salads, and soups during lunch hours only.  Save some room to indulge on one of their amazing homemade desserts.
Address: 3915 A1A S #103, St. Augustine, FL 32080
Phone: (904) 217-4428
Best Dessert: Creme de la Cocoa
Eat dessert first at Creme de la Cocoa.  With decadent cakes, chocolates, macaroons, and more, this bakery will become your favorite for a special occasion or a craving for a sweet treat.
Address: 299 San Marco Ave, St. Augustine, FL 32084
Phone: (904) 466-9499
Expand Your Palette During Your Next St. Augustine Beach Vacation
Experience all of the amazing dining choices St. Augustine has to offer while enjoying the Atlantic Ocean waves in a beachfront community! Contact us today to begin planning the vacation of a lifetime!